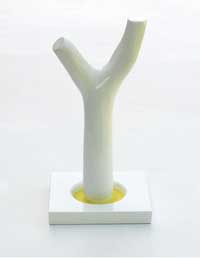 We-make-money-not-art recently featured the pee-tree:

"So Joa Herrenknecht has designed the Pee-tree urinal for public spaces. His bright ceramic white colour is a strong signal that can be seen from far – making it accessible when in urgent need. The trunk offers a perfect place for messaging, e.g. "I was here" or "done that" statements. The urine is directly flushed down to the underground sewage canal.
You think we can convince BF to replace his pink urinals with these?
Original and more examples from the pee-pee project.